MEDFORD, Ore. — A series of grass fires along Interstate 5 were finished burning by 11:30 a.m. Sunday.
The Oregon Department of Forestry (ODF) Southwest District says the largest fire is contained to about a quarter acre and firefighters are mopping up each incident.
The ODF says: "We have launched reconnaissance aircraft further north and so far have not found any new fire. We will continue to monitor these areas throughout the day."
He says the cause is under investigation and is likely vehicle-related.
ODF's Southwest District was among those responding to grass fires from mile markers 44-50 for northbound I-5, with fires reported near exit 45, mile 48 and mile 50.
The ODF says six fires included the series of grass fires, with no formal evacuations taking place.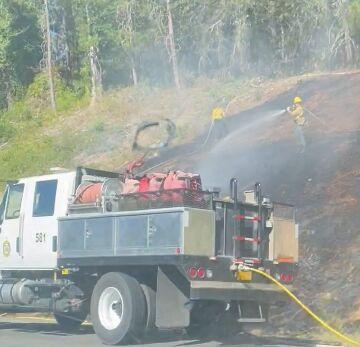 Initial reports from drivers of a fire near Exit 45 began at approximately 9:27 am.
Other reports involved a crash at I-5 exit 45 and traffic backed up at exit 48 during the early morning fire.
We'll have more information online as it becomes available and in NewsWatch 12.
keep going @KDRV12 on Facebook and @KDRV on Twitter for the latest news, sports and weather in Southern Oregon and Northern California.